How to collect feedback on autopilot and report it back within Bullhorn via Ratecard
By integrating your Bullhorn and Ratecard accounts, you can benefit from collecting feedback on autopilot and reporting it back within Bullhorn. Don't worry about asking for feedback and/or reviews anymore: the process is 100% automated, so it doesn't take up your time. Would you like to be in control, and decide yourself which contacts you ask for feedback and/or a review? Get started now and improve every day!
How it works
Connect your Bullhorn account, so Ratecard is authorised to have access
Set up triggers listen to events happening within Bullhorn
Automatically add, unsubscribe or remove candidates and clients to a smart group
Build your own form(s) and/or use our proven questionnaires (e.g. CX, cNPS, eNPS or EX)
Send real-time and personalised requests per email & SMS
Set goals, measure and benchmark to improve every day
Check out your feedback in real-time within Bullhorn via custom tabs
Get more traffic, higher conversion rates and lower marketing costs
Let your team spread your ambassadors' words and grow (even) faster!
Example of triggers that listen to events happening within Bullhorn
Example of experience tab added to a candidate profile within Bullhorn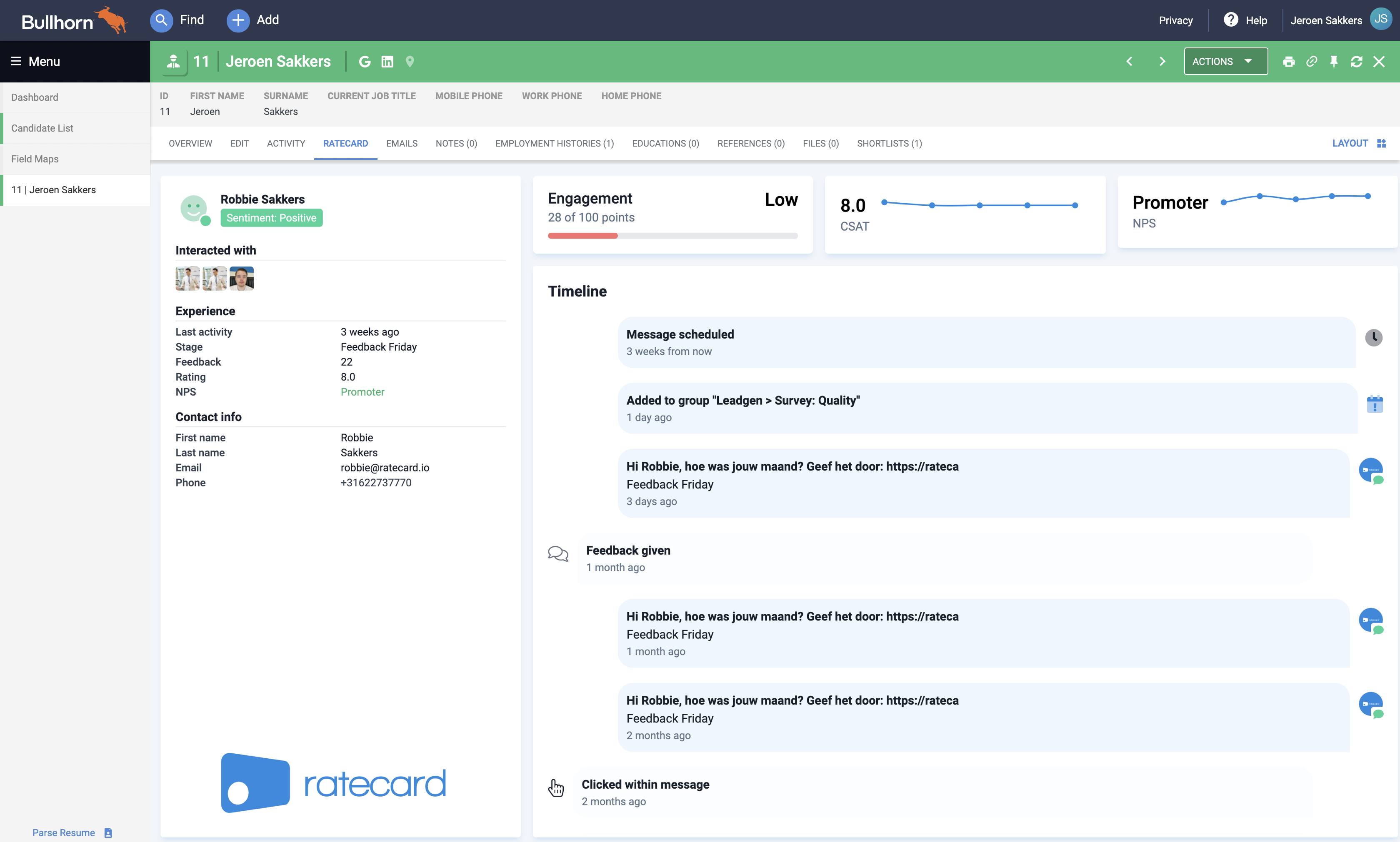 Interested?
If you're interested in collecting feedback and/or reviews on autopilot via Ratecard and Bullhorn, please let us know. Not a customer of Bullhorn or Ratecard yet? Don't worry, you can schedule a free demo via Ratecard or Bullhorn, or you could set up a free trial at Ratecard so you can test the waters without any risks.